Since it opened in 2014 Ann Arbor's skatepark, located on the west side of the city in Veteran's Memorial Park, has been a booming success and can be found bustling with activity on almost any day where weather permits. Now skatepark advocates are proposing the first major addition to the park since its original design was approved: a startling 60 meter steep slope that ends with an upward ramp, sending the skater flying into the air at a high speed and with no soft landing. If built, the structure also uses an innovative motorized cable system that lifts skaters to the top before they take the plunge. Critics of the new attraction have dubbed it the "leap of death", but lead skatepark organizer Scott Thomas says the risks are exaggerated and the nickname is alarmist.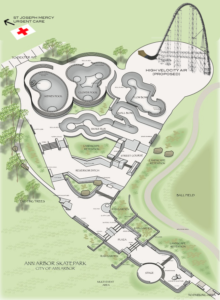 "We skaters call this a high velocity air, or HVA for short, and it is anything but a 'leap of death.'," says Thomas derisively, rolling his eyes, "If anything, it is an 'HVA of death.'"
"Skateboarding is an extreme sport, and is constantly pushing the extreme boundaries of extreme possibility, and the HVA is one more extreme leap toward the extremities," Thomas added,"The fact is, we expect few actual fatalities from the HVA."
"Oh, I Love it… I want to see all of them on it" – Skatepark opponent Kathryn Gray
The controversy over the HVA has also created some strange bedfellows. Kathryn Gray, a neighbor of Veteran's Park and a long-time vocal opponent of the skatepark, has strongly endorsed the HVA. Despite vehemently opposing the original construction of the skatepark and frequently complaining about the skater culture it draws to the area, Gray seems sternly enthusiastic about the new attraction.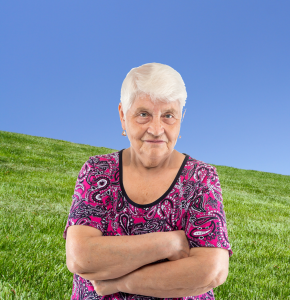 "Oh, I love it. I love it. Oh, I want to see all of them on it," said Ms Gray grim-faced and slowly shaking her head, "Every. Single. One of them. I'm bringing my lawn chair."
Thomas welcomes Gray's support and has been working to calm parents' fears about safety.
"I really feel that the alarmist reaction to the new HVA is overblown, and while it was not an intentional part of its design, I want to note that the exit ramp faces toward the nearby [St Joseph's Maple] Urgent Care which is conveniently located across the nearby Dexter-Maple intersection." Thomas explained, "So the higher the velocity and further the skater travels, the closer they will be to any medical help they may need after landing."
Jeff McLovin, a 14 year-old skater with a serious skating addiction, a sassy haircut, and an attitude to match, says the new slope is just the thing to help him deal with his divorcing parents. Though he broke his arm skating in the park three weeks after it originally opened, McLovin expresses no fear about using the new park attraction. "I'm going to wait until I see my parents walking up and then I'm going to go down backwards," Says McLovin, "[My friend] Dave is going to take a video so I can post whatever happens. Maybe it'll go viral."